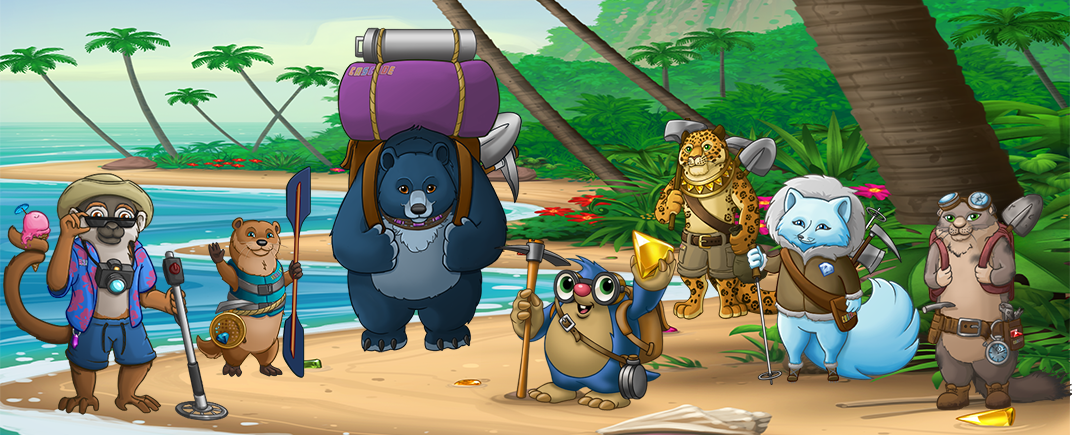 At funkitron, we have a team of super experienced game makers who really know how to craft fun.
---

David Walls
David is the Founder and President of funkitron and leads the team in the creation of games. He has both invented brand new games like Cascade, Word Bird, and Solitaire Kingdom and has worked with top game brands like Scrabble, Monopoly, Slingo and even Frogger. Prior to funkitron, David was Creative Director at Hasbro where he called meetings to play SORRY! David has a BS in CS from the College Of William And Mary.
Favorite Cascade Level: 73 "Go Wild"!
---
John Manuelian
John is a game software engineer with 15 years experience in the industry. He has worked on games for Nintendo, Sony, Microsoft, arcade, and mobil platforms over his career. When he has free time he enjoys collecting, restoring, and playing pinball for fun and in local leagues. He also builds amusement devices and character animatronics for fun.
---
David Butler
Dave is a software engineer who started with Funkitron in 2009 straight out of MIT. He spent some time working at tech startups since then, but now is back making games and more passionate than ever. In his free time Dave enjoys reading, exercise, hanging with his dog Xena, and playing games with friends.
---
Naomi Hinchen
Naomi joined funkitron from MIT where she spent two years doing undergraduate games research at the Singapore-MIT GAMBIT Game Lab and did a master's thesis on shaping game narrative by generating AI-controlled NPCs. She is currently creating even more fun crafty levels for Cascade, so if you reach a new tough one, you know who to blame.
---
Phelan Wolfendon
Phelan is a level designer and Production Assistant and has been helping to guide Cascade through the development process. She graduated from Northeastern University in 2012 with a Master's Degree in Game Design and experience in 3D animation. Phelan grew up within the games industry and enjoys games across all platforms. When she doesn't have an iPad or a controller in hand she's probably designing a tabletop system for fun or rolling d20s somewhere.
---
Sean Hoffman
Sean has created all the amazing music for all funkitron projects. After attending Berklee College of Music, Sean relocated to Los Angeles where he established himself in the world of composing/producing music for film, television, internet, and video games, with past clients including: ABC, NBC, CBS, FOX, Discovery Channel, ESPN, TLC, VH1, MTV, StubHub, among others. Sean has performed in critically lauded groups American Music Club and Bedroom Walls and currently performs with the duo Loch&Key.
---

Michelle Martins
Michelle has been working as an artist and designer with funkitron since 2007. As an Illustrator she comfortably treads the line between artist and geek and brings her enthusiasm for animation and fantasy to the characters and backgrounds she designs. A RISD Grad, she's since settled in Providence, RI. When not creating critters for funkitron she's often doodling them for personal projects or out observing them in nature.
---
Kevin is currently wrapping up a degree in Game Design & Development at the Rochester Institute of Technology. As an intern at funkitron he will be working on designing and balancing new levels. When he has free time he enjoys working out, watching the Buffalo Bills (maybe) win, and of course, playing games.
---
James graduated from the Rochester Institute of Technology with a degree Game Design and Development in 2019. His earliest memories revolve around playing games and he is excited to be a game designer in an industry that he has loved his entire life. If he is not playing or making games you will probably find him reading a book, watching a movie/show for hours on end, or working out.
---

Ron Crabb
Ron Crabb is an Illustrator and digital artist with over 25 years of experience in the entertainment industry. He started in Hollywood doing motion graphics design for ABC Television during the 1984 Olympics and remained in Los Angeles for the next twenty years eventually expanding into film visual effects work as a matte painter and visual effects and concept artist. He has worked on over 20 films including X Men 2, Last Samurai, The Bucket List, Changeling, and most recently, Alice in Wonderland.
His work can be seen at CrabbDigital.com