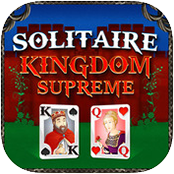 "SUPREMELY SUPERB" – "I love playing basic solitaire, but I apparently love playing basic solitaire with customizable special conditions, hidden treasures, and unlockable features a whole lot more." – "Anybody who enjoys a good game of solitaire shouldn't miss it. Heck, everyone should probably give it a shot, too." – 148Apps.com
Welcome to Solitaire Kingdom® Supreme!
The team at Funkitron are huge fans of Solitaire, but always thought that current versions just weren't fun enough. So they set upon making a Solitaire game that incorporates all the aspects of game they knew, with a few new twists.
Tired of losing at Solitaire? Help has arrived!
Solitaire Kingdom is a fresh and fun version of your favorite Solitaire game. Play the Solitaire you know and love, but now you get to win special cards that will give you fantastic new powers. Add these cards to your deck and become the Solitaire master you know you are. Features include: Quick play which lets you play fast with just one click per card, an Award system that rewards you for big plays, and infinite Daily Challenges that keeps the fun going, and going, and going.
More Solitaire Kingdom Supreme Features: – Make the game as easy or as hard as you want – Unlock Solitaire Heroes®, powerup cards to build your own custom games, over 16000 combinations! – Play the never seen before double deck game: Dragon Solitaire – An intuitive interface, with optional left-handed play – Beautiful, cell-shaded card characters, with top notch game music – Daily challenges that never run out! – Share scores worldwide via Apple's Game Center – Win awards and build your own Coat Of Arms, to show everyone how well you play
This slideshow requires JavaScript.